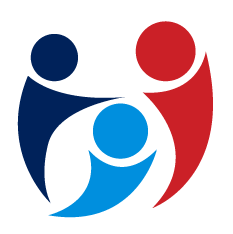 Sometimes it can be difficult to determine what is best for your child.
Here you will find information to help you support your child with a vision impairment in achieving their potential in mobility and independence skills.
Habviuk has a public presence on twitter and pinterest as well as open and closed facebook pages. Use Pinterest to search specific topics   here.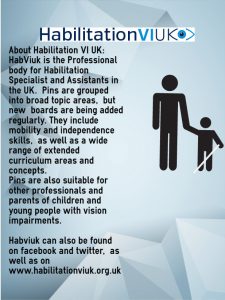 Keep checking back as new items and features will be added regularly.
---
Could you design a book?
Enjoying books is, for most young children, an essential part of childhood.  Tactile image books like those in ClearVision's collection are the solution for blind and partially sighted children, as every picture is designed to be explored by touch. These incredible books are not commercially produced, but made by creative people from every walk of life.  The Typlo and Tactile Book Competition 2019  encourages book creation across the globe.  Click the link below for more information:
www.clearvisionproject.org/News/index.php?post_id=12&title=typhlo-and-tactus-competition-2019:-could-you-design-a-book
---
Useful links
These links will take you to external sites and external booklets and information. Habilitation VI UK takes no responsibility for content and does not necessarily endorse the views presented on these sites. However they offer you a guide as to some of the services available.  Please ensure you contact your local services for information on local provision.

  Find specialist information on the website http://www.rnib.org.uk
or you can contact the helpline  RNIB helpline  0303 123 9999   helpline@rnib.org.uk 
We're the Royal National Institute of Blind People (RNIB) and we're here for everyone affected by sight loss.
Whether you're losing your sight or you're blind or partially sighted, our practical and emotional support can help you face the future with confidence.
---
Coming up to voting Age?  
Watch this BBC video to see how to vote when severely Visually Impaired.
---
BBC Ouch BBC Ouch programmes page.
The magic button on pelican crossings http://www.bbc.co.uk/news/blogs-ouch-22706881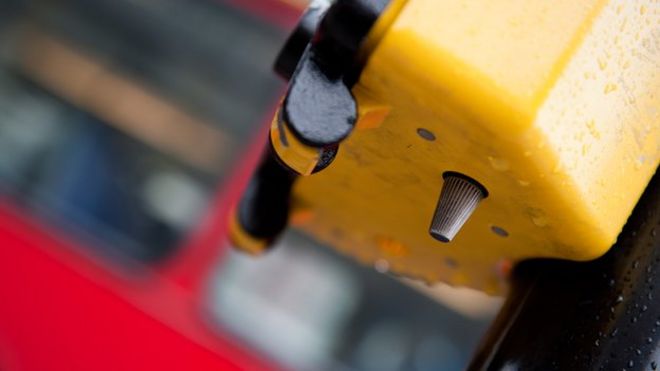 ---
To find out more about the other services and programmes VICTA can offer children and young adults aged 0 to 29 years, please visit our website victa.org.uk
To 'meet' other parents online, seek advice about specific issues, share personal experiences and assist with generating solutions, please join our Parent Network Facebook page.
---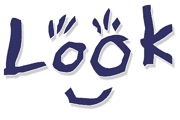 LOOK-UK supports young people and families living with a vision impairment
Are you a young person up to the age of 29 and have a vision impairment, or are you a parent of a vision impaired child? Then we want to hear from you.
---

www.WonderBaby.org is dedicated to providing information and support to parents of visually impaired & disabled children.  In addition to the website,  find wonderbaby on facebook and twitter. Loads of brilliant articles.
---
Check out two useful ways of using a liquid level indicator!
---
Keep up with your children as they learn braille.
  click for braille resources 
find an online course here
or a more accessible version for those with vision impairment here
---
The VI Talk AudioBoo Channel
VI Talk also has a webpage,  Facebook and a twitter presence.
Here you will find information and chat for and by people with visual impairments.  It offers support to parents and or to young people and is a great place to keep up with new developments.
---
Share the experiences of young vi bloggers or  vloggers online
Young people with visual impairments have so much to teach and share with us, encourage children and young people to become involved with others with visual impairments and profit from their experiences.
Try this brilliant blog post as an introduction.
New blog post! Embracing The Cane https://t.co/2xEdLTrMXs

— Holly (@lifeofablindgrl) March 8, 2017

---
Looking for practical help with home or garden projects to improve your child's independence and well being ?
WellChild Helping Hands is a home improvement programme which, with volunteers from local companies, transforms gardens and bedrooms for children and young people with exceptional health needs across the UK
---

  offer information on potential sources of Grants and Awards , click here
---
Downloadable Documents
Developing independent living skills and mobility for preschoolers
RNIB learning_through_play_in_the_early_years_may_2014
Habilitation Services – a guide for parents
Parents tell the RNIB that one of the most difficult parts of finding out that their child has a vision impairment (VI) is knowing how to talk about it with their child.