We recently had the opportunity to test a new style cane tip developed by Australian company Omnia. The tip features the company's "Omni-Wheel" technology, initially designed for factory conveyor lines, the wheels allow 360° movement in all directions. The unique design of the Omni-Sense promises many benefits over a conventional cane tip including; improved tactile and auditory feedback, ease of movement and better durability.
*Please note – We reached out to Omnia to test this product. We were not paid to promote this product; all feedback is our honest and unbiased opinion. This review is from the perspective of a visually impaired user. I am not a Habilitation Specialist; however, our follow up video will include thoughts from Qualified Mobility & Orientation Specialists.
Design
The Omni-Sense is made with a tough polymer construction. The unique design has four wheels, each one featuring four smaller rollers that spin in the opposite direction, allowing the entire tip to roll both forwards and side to side. The four wheels are in pairs divided by an axle which has the cane attachment point as well as an integrated rest stand.
The cane tip is available with either a hook-on or a push-on attachment so it should work with most long canes including Ambutech canes. The tip has a black axle and grey wheels with bright orange rollers.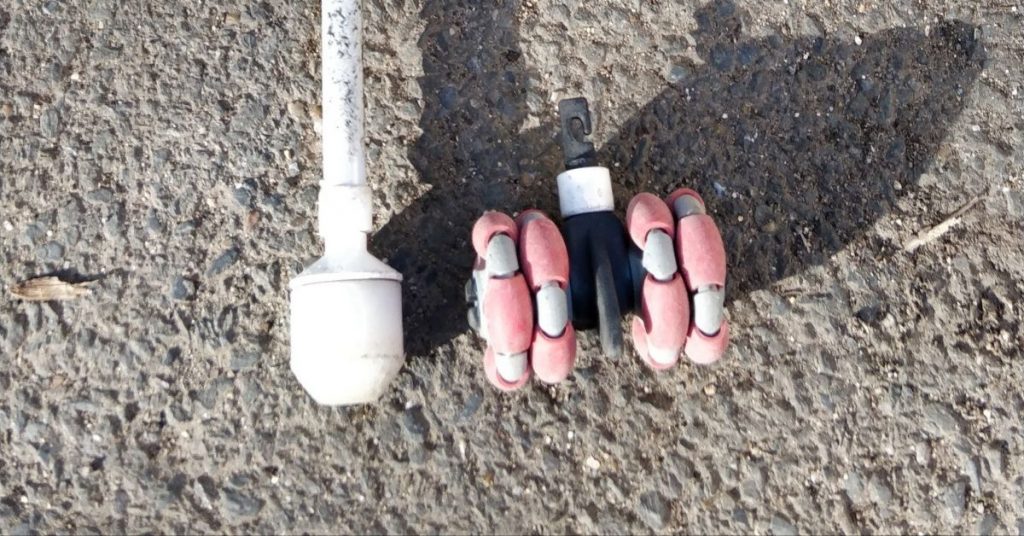 Initial impressions and setup
Upon first unboxing the cane tip feels solid with strong construction and good build quality. I personally like the rather unique appearance of the tip; it was smaller than I expected and the bright orange rollers help it stand out and easy to find. This may be particularly helpful if you tend to swap out tips regularly.
Installation is simple and is the same process as a conventional cane tip. For this review we were testing the hook-on version. One important note when installing is to ensure that the tip is facing the correct direction. Due to the integrated rest stand, the tip must be installed with the stand facing up, otherwise it will drag preventing the wheels from rolling forward. (Please see our video review below for more details).
Time to start testing! The first thing I noticed was the weight. At 93 grams, the Omni-Sense is a fair bit heavier than the hook-on marshmallow tip, that weighs approx 40 grams. At first, I couldn't get into a well-timed cane step, however after 5 minutes or so I got used to the feel and could start walking in step with the cane. For the majority of the testing, I used the tip on tarmac pavements, however I was keen to find out how well it could roll over grass and gravel paths.
Movement
The wheels work well at helping the tip roll forward and it is relatively easy to push the cane along over tarmac. When I started sweeping the cane though, I really started to feel the weight and it required more effort in the wrists/fingers to maintain an even sweep. The tip does roll surprisingly well over short cut grass and rarely gets caught unless you get tangled in longer patches. I also found that I could sweep over gravel paths more easily than a marshmallow tip and still get good feedback through the cane.
I've only been using a long cane for a relatively short time. As such, I do tend to snag my marshmallow cane tip every now and then which can be frustrating, (& occasionally painful!). After following one of my usual routes, I can honestly say the tip didn't snag once! It did a really good job of rolling over raised drain covers and the various bumps and cracks in the pavement surface and never jabbed or jolted me. It could even track over rougher gravel paths without getting caught. Unfortunately, after about 30 minutes I was getting quite a bit of fatigue in my wrist, mostly from the side-to-side movement.
Tactile feedback
The extra surface area covered by the wheels and rollers do provide very good feedback. I found it slightly easier than a regular tip to detect drop kerbs where I sometimes have a tendency to overstep. Feedback is also good over pavement. For example, I was easily able to tell when moving over old-rougher sections of tarmac onto newer patches.
Detecting grass and over rough surfaces is all very good. When walking along a gravel path, I could tell where there were areas with looser stones compared to the more hard-pack gravel. We were lucky to have dry weather during our testing so unfortunately I can't comment of how well it will work in the rain. The Omni-Sense also works when using the touch & drag technique along shorelines and doesn't seem to get in the way or get caught on the edges of kerbs.
Auditory feedback
When I first discovered the Omni-Sense and watched videos online it did seem to make quite a loud sound when moving. Upon testing though it wasn't as noisy or quite as annoying as I thought it might be.
The sound it makes is very different to a regular tip, (hopefully our video review will demonstrate this). It's a higher pitched sound, only slightly louder than the marshmallow tip. It is possible to hear a change in pitch when rolling over different surfaces and textures, i.e. moving from concrete onto tarmac to brick paving etc. Over grass I did find the rollers would squeak slightly, though this never seemed to occur on any other terrain.
Video review
Conclusion
After using the Omni-Sense for a few hours, overall, I am impressed with it's innovative design however I do have a few issues with it. I think it's weight may cause a problem for some users, especially children whose wrists are not yet fully developed. As an adult, I was finding the sweeping movement quite tiring after a while which would put me off using it for longer walks. Another slight problem we noticed with our hook-on model was that the tip would sometimes have a tendency to twist slightly and become misaligned with the cane handle. I did have to stop and readjust this a several times.
That said, I think the cane may be a fantastic option if you would like to get away from the town/city centers and explore unpaved gravel paths in your local parks, forests etc. It will also be be useful if you live in an area with particularly uneven pavements as the tip is very resistant to snagging. Both tactile and auditory feedback are great and more experienced cane users will certainly appreciate the extra feedback. I have no doubt that the claimed durability and slower wear-rate is true as the tip is very well made and seems very tough!
I won't be swapping my usual marshmallow for the Omni-Sense as my daily cane tip; however, I would be interested in having one as my "Cross-country cane". I could see cane tips being like pairs of shoes, where you choose the right tip for the right occasion. Having new options and variations is always a good thing and I really like the idea of a "rugged" cane tip that can be use off-road. I would encourage you to try the Omni-Sense for yourself to see how you get on as it may suit your needs and may well replace your usual cane tip.
The Omni-Sense is not yet available to purchase in the UK, however Omnia have kindly sent us a couple of test models to try so please get in touch If you are interested in trying one. If you have any further questions about the Omni-Sense please let us know in the comments.
Matthew Panting
Habilitation VI UK – Social Media/Website Editor & VI Product Tester